| | | | |
| --- | --- | --- | --- |
| Date | Groups | Age | Course books |
| | | | |
В школах проводится олимпиада «Бульдог»,а у нас индивидуально-групповая олимпиада «Питбуль».
For the teacher:
1.Divide your students into two groups and choose their names. Write the groups' names on the board.
2.Students take out new names for themselves(kolobok,mermaid......)
3.Inform the students that they will have "individual-group Olympic competition-Pitbull "and show themindividual cards given for the right answers.
"Individual-Group Olympic Competition-Pitbull "
1."Real photos"(The students describe each other using a cliché. Give them individual cards for every description.)
2."Word festival"(In this competition use the cards with lexis they have already learned.)
3."Limbo"(Dancing competition. The students go under the stick to music. The most flexible dancer gets the card.)
4."Grammar fight"(On the board the teacher writes some positive sentences and the students write the questions and negative forms on their sheets of paper. They get the card for every correct sentence. If they are not correct,show them their mistake,explain and after his/her correction give the card.)
5."Heroes"(Hang every student the name of any hero on the back. Then the others try to explain to him in English who he is. All the members must guess their names. Check the time for every team. The fastest is the winner. )
6."The Big Ear"(Listening competition. Choose the texts to listen and do the tasks from "ГИА-4кл", «PET», "KET")
"The Detectives"(The students search for the mistakes in the texts or putting in missing words. Use the games or crosswords we have.)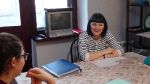 Miss Irene
"The Rope Competition" (The strongest team is the winner.)
"Love or friendship?"(The writing competition. The students write the letter about themselves using the cliché. Then the teacher mix them and every student pick out a letter. If it is from the same sex, it can be friendship. In other case it can be love. Who knows?)
"Tea time"(While the students are having tea and watching funny video about animals the teacher is making calculations. The winning team gets 2 clubs. The others-1 club. The champion gets 5 clubs.)
P.S: Dear teachers! Write down the material you will use in space. Put all the clichés into the file(The students don't write in clishes!!!!) We'll use these plans in case of emergency.
Thanks a million!
Miss Irene
Notes: